MoBand is managed by a group of eleven civic minded volunteers who contribute their time and talent during the year to create a successful concert season each summer. There are four salaried employees: a conductor, assistant conductor/manager and two librarians.
Volunteer Board Members are:
Kay Elson, President
Andrea Sessions, Esq., Vice-President
Richard Squires, Secretary
Harold Conkey, Treasurer
Board Members:
Matthew Cover
Dr. Bruce Hinkley
Bill Jaques
Janice Leer
Chris Murphy
Steve Perry
Robert Saunders
Employees
George Gardner – Band Director
Erik Maki – Band Manager
Cindy Davis – Librarian
Katherine Rau- Librarian
George Gardner | Conductor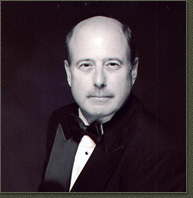 George Gardner is a graduate of Davis High School, Modesto Junior College, and CSU Stanislaus. He has been teaching instrumental music in the Modesto City School District for 39 years. During that time he has taught band, jazz band, and orchestra at all levels: elementary, junior high, and high school. He currently teaches at four elementary schools and is the chairman of the K-8 Instrumental Music Program for Modesto City Schools.
In addition to his position with Modesto City Schools, Mr. Garner is in his 32nd year as conductor of the Modesto Band of Stanislaus County. Prior to that time, he was the manager and assistant conductor of the band for seven years.
Mr. Gardner's ensembles have performed throughout the United States and Europe. In 1978, his Downey High School Jazz Band toured Europe and performed at the Montreaux Jazz Festival in Switzerland. A 1984 MoBand tour of Europe included concerts in London, Paris, Amsterdam, and Luxembourg. He has also served as a guest conductor, clinician, and adjudicator throughout the state.
In 2004, he received the Stanislaus Arts Council's Excellence in Arts Award for Music, and in 2005 he received the prestigious Modesto Area Music Association Lifetime Achievement Award.
Mr. Gardner's professional affiliations include California Music Educators Conference, Music Educators National Conference, and Pacific Coast Judges Association. His hobbies include reading and traveling with his wife Dawn who is also a music teacher for Modesto City Schools.
Erik Maki | Manager/Co-Conductor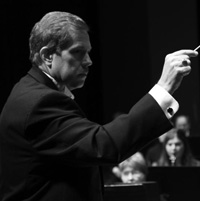 Erik Maki has been the Modesto Band of Stanislaus County Assistant Conductor and Band Manager since 2008. In addition to his duties with MoBand, Erik is the Director of Bands and Professor of Music at Modesto Junior College. His responsibilities at MJC include conducting the symphonic band, the community concert band, and directing the jazz band as well as teaching applied instruments and music appreciation.
A product of Modesto public schools, Erik Maki graduated from Beyer High School and attended MJC as an instrumental music major. Mr. Maki holds a Bachelors degree in Music Education from Fresno State, and a Master of Music Education degree from the University of Illinois at Urbana-Champaign.
Prior to his tenure at Modesto Junior College, Erik Maki taught music at the K-12 level at Modesto High School, in the Stanislaus Union School District, and in the Turlock Unified School District.
Erik Maki's professional affiliations include the California Music Educator's Association, Music Association of California Community Colleges, Stanislaus County Music Educator's Association, the International Trumpet Guild, and has been listed five times in Who's Who Among America's Teachers.